iSteer SFA – Sales Force Automation
iSteer SFA - Sales Force Automation
Technique of using software to automate the business task for field sales teams and to uncover more revenue opportunities.
Boost sales productivity and deliver connected customer service experiences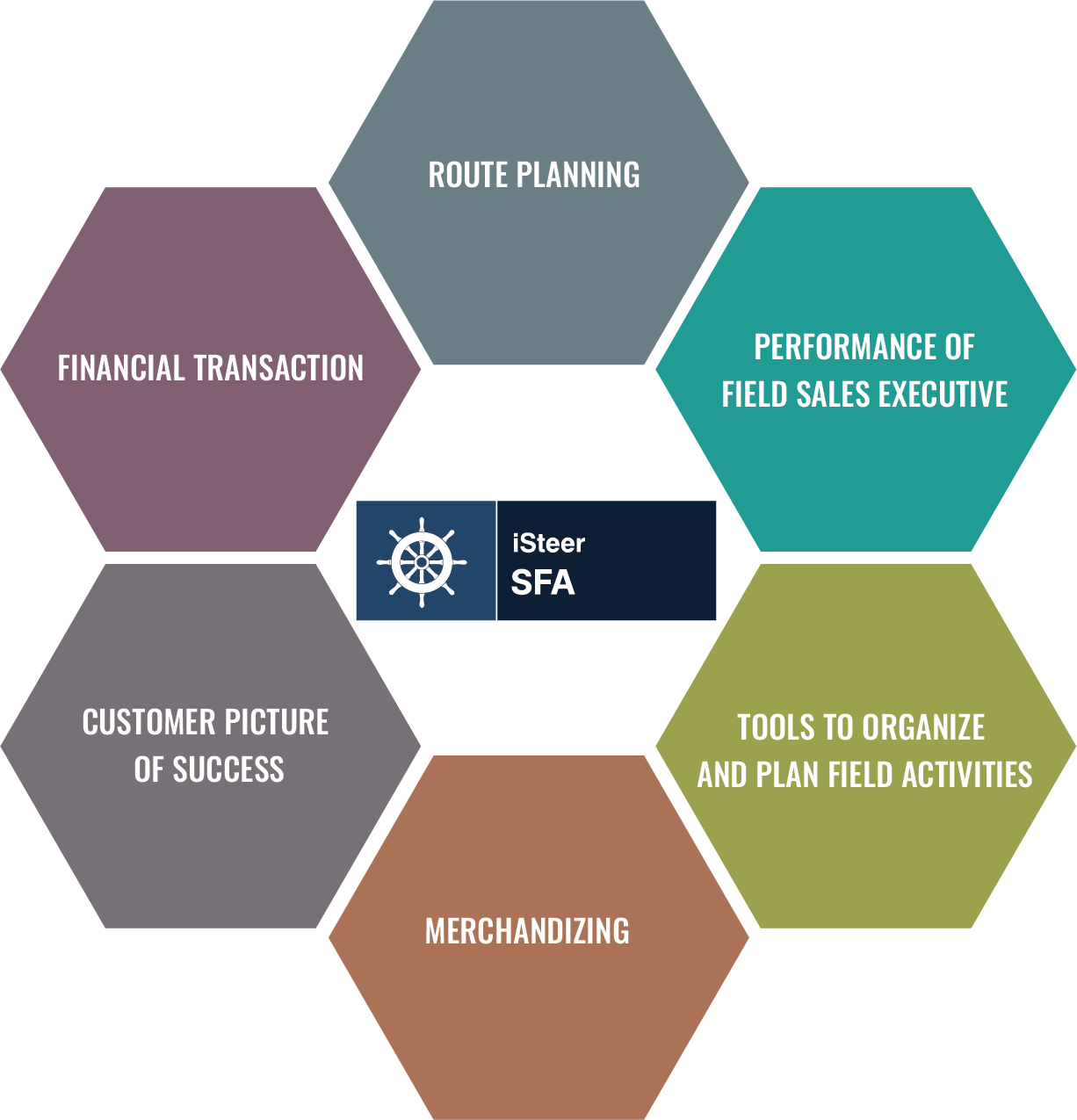 iSteer, SFA tools offer companies/distributors the ability to  make their sales team efficient and effective. This  system removes paper out of the process for field sales executives and replaces it with a feature-rich mobile application. This cutting-edge automation solutions is represented by a continuously evolving set of solutions and approaches that drive efficiency and effectiveness  along with back-end systems that manage data and content that is used in the process.
Smart automation makes it easier for field sales executives to focus on selling rather than documentation, processing sales and for sales managers to focus on enriching the sales strategy rather than administration.
The solution allows small and mid-sized distributors pick the modules that make the most sense for their particular kind of Sales analysis like  (route Planning, recording visits of sales executives, last purchased product, financial transaction, reverse communication on order taken and no sale reason, promotional activity, tracking eye level view on outlet products )
Sales Force Analysis advantages 
Customer Lists and Lead details – Route Planning 
Performance of field  sales executive  by Geo-Tracking of activities with live map views and historical movement
Pricing, Fast Moving SKU's, Product catalogs for the available products
Tools to organize and plan field activities
Ability to create orders – Reverse communication 
Access to (product images) through Eye level view
Customer picture of success
All Post

Sales Team management

iSteer Incentive Strategically designed to assist you induce additional quantitative growth. Individual performance towards organizational development goals. Intime visibility of…

iSteer Catalogue Catalog management to go beyond the limits Solutions that specifically address the distinctive aspects of varied sales teams…

iSteer Lean On Channel Excellence is the dream of every brand owner, the excellence comes only with the continuous learning,…

iSteer Insight Streamlines business processes and allows for uncomplicated analytics for actions Act and capitalize on opportunities and take actions…

iSteer Sales Channel Our Sales Channel Modules improve conversion rates, revenue, and accelerate the sales cycle. Boost sales productivity and…

Transforming distributors through deep digital connections with customers driven by innovative technology. Always connected, ready to use, close to the…

iSteer ERP Ensure optimal inventory across the entire value chain enterprise resource designing system to integrate, automate, to efficiently and…
iSteer Aggregator Customizable business intelligence reporting for brand . Marketing and sales team to initiate and respond to the market…

iSteer SFA – Sales Force Automation Technique of using software to automate the business task for field sales teams and…

Shell ICAM – lain Methven
Saves Time - no need to ask or chase for KPI's Helps focus on specifics - sector, products, KPI's Makes internal/ external MILO's more effective Strengths Trust & Collaboration Increases Accountability Provides a fantastic platform for success
Shell ICAM - lain Methven
Shell – Sujatha Rao
SAMi project has been selected for the Executive Choice Award this time! Congrats to all of you and your team for all the effort and agility you have shown in making this happen !! Looking forward to achieving many more such milestones in the future.
Shell - Sujatha Rao